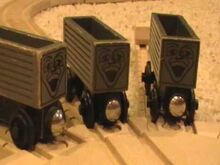 The
Troublesome Trucks
are mischievous rolling stocks and don't have names.
Bubblesome Trucks
Edit
These trucks are full of Bubbles.
Empty Grey Trucks
Edit
These trucks are mostly empty with no cargo in them, except for coal and stone.
Some New Grey Trucks are introduced in Season 15 with some cargo in them.
One of the empty trucks is the White Face Troublesome Truck.
Coal Trucks
Edit
These Trucks are always full of Coal.
They were given a shot when Millie pulled them and derailed at Ulfsted Castle.
The notable coal truck is Fred Pelhay.
Chocolate and Sweet Trucks
Edit
Giggling Troublesome Trucks
Edit
These Trucks have Red Tarps on Them. They are usually Part of Goods Trains or the Flying Kipper.
Ballast/Stone Trucks
Edit
Troublesome Brakevans
Edit
BMQ Troublesome Trucks
Edit
Gallery:
Edit
Bubblesome Trucks Coal Trucks Chocolate and Sweet Trucks Empty Grey Trucks Giggling Troublesome Trucks Ballast/Stone Trucks Troublesome Brakevans BMQ Troublesome Trucks
Community content is available under
CC-BY-SA
unless otherwise noted.