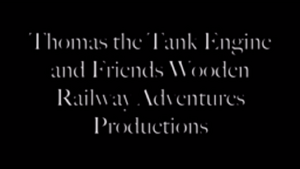 Thomas the Tank Engine and Friends Wooden Railway Adventures is Keekre24's Thomas Wooden Railway Series. It made its grand debut in June of 2008. There are 15 episodes per season.
Picture format
Season's 1-10 480i (SDTV)
Season's 11-present 1080i (HDTV)
Season 1 (June-Early July 2008)
Season 2 (July 2008)
Keekre24 Studios' 1st Special: Thomas and the Storm
Season 3 (August-October 2008)
Season 4 (October-November 2008)
Keekre24 Studios' 2nd Special: Lady the Lost Engine
Season 5 (Thanksgiving Day-Christmas 2008)
Season 6 (January-June 2009)
Keekre24 Studios' 3rd Special: The Strange Case of Splatter & Dodge
Keekre24 Studios' 4th Special: The Battle of Branchlines
Season 7 (December 2009)
Keekre24 Studios' Postponed Special: Wheels of Fortune
Season 8 (January-September 2010)
Season 9 (September 2011-August 2012)
Keekre24 Studios' 5th Special: The Legend of Diesel 10
Keekre24 Studios' 6th Special: Sodor's Last Stand
Season 10 (October 2012-February 2013)
Keekre24 Studios' 7th Special: Hiro's Origins
​Season 11 (September 2013-March 2015)
Keekre24 Studios' 8th Special: Claw of the Law
​Season 12 (June 2015-February 2016)
Keekre24 Studios' 9th Special: Oliver's Eleven
Season 13 (July-Christmas 2016)
Season 14 (April-October 2017)
Keekre24 Studios' 10th Special: Saving Pirate Ryan
​Season 15 (August 2018-July 2019)
Season 16 (July-October 2020)
Season 17 (2021)
Season 18
Season 19
Season 20
Community content is available under
CC-BY-SA
unless otherwise noted.