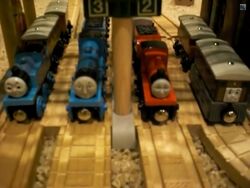 This is Keekre24's 4th Movie.
One day, all the engines with Branchlines were at Knapford Station. Gordon brings up a topic that causes confusion and delay. He asks if everyone else if the Main Line is the best Branchline on the Island Of Sodor. Everyone disagrees. Sir Topham Hatt came out and told the engines to keep the noise down. The engines argue for half an hour and Trevor reminds the engines they're late. Sir Topham Hatt Speaks Severely to the engines and expects $20,000 dollars on his desk by the end of the week to cover the refunds he had to give.
Community content is available under
CC-BY-SA
unless otherwise noted.