Stepney's Problem



• Season:

1

• Episode:

2

• Original Upload Date:

June 15-20, 2008

• Narrator:

Keekre24/ThomasWoodenRailway

• Air Date:

March 11, 2009

• Previous episode:

• Next episode:
Stepney's Problem is the second episode of the first season.
Thomas the Tank Engine is puffing along his branchline with his two coaches, Annie and Clarabel. As he stops at ellsbridge Station. He sees Stepney pulling an unusual car. Thomas asks him what it is. Stepney says it is a Fossil car.
He explains that he is pulling it around for Sir Topham Hatt to advertise. Thomas asks if he likes doing it. Stepney answers aying that he would rather pulling a train. Stepney then goes to the shed to rest. Thomas disliked seeing Stepney looking sad, but the as the signal swithed gree, Thomas was off. Right before he went into Henry's Tunnel, he saw Toby. Toby says he is delivering the Sodor Dairy cars to Farmer McColl.
The say goodbye to each other and Thomas the heads off to Gordon's hill. After he passes the hill, Trevor, Terence, Harold and Butch say high to Thomas. Thomas whistles back. Then Thomas went to the the Roundhouse. He sees Percy, Gordon, Henry, James, and Emily in it.
They start arguing over who should pull the fossil car. Thomas left to go to the yard. At the yard he sees Mavis, Oliver, Duck, and Toad. They think that Stepney's doing a good job at pulling the Fossil car. Thomas explains to them that that is not the case for the engines at the Roundhouse. Duck points put who the engines are at the Roundhouse, and how they all think they are the best.
Thomas then says his goodbyes and visits Stepney in the shed. Stepney says that he would not like to pull the Fossil car anymore, and how he knows about the engines at the Roundhouse.
Thoams tells Stepney to ignore them as they are the most jealous engines on the railway. Stepney thanks Thomas for being kind, then Thomas puffed away feeling good, that he had helped a friend in need.
The Station
Tidmouth Sheds
The Engine Shed
The Yard
| Language | Name | Meaning | |
| --- | --- | --- | --- |
| Spanish | El problema de stepney | The Problem with Stepney | |
| French | Le problème de stepney | The Problem with Stepney | |
| German | stepney das Problem | Stepney the Problem | |
When Keekre 24 says that Harold, Trevor, Terence and Butch say hello to Thomas, the words aren't heard.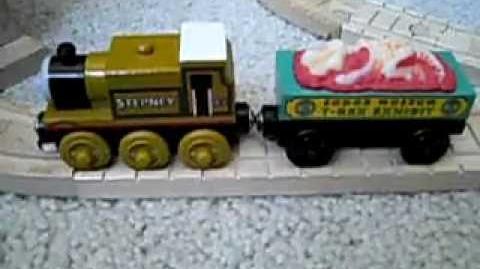 Community content is available under
CC-BY-SA
unless otherwise noted.