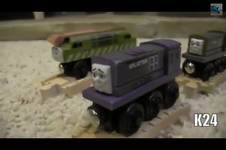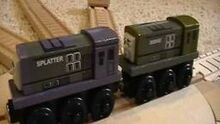 Splatter and Dodge (also known together as "Splodge") are two Troublesome Diesels that work for Diesel 10, They also enjoy seeing Diesel 10's Plans Backfire. 
Bio:
In The Special "The Strange Case of Splatter & Dodge" They saw Diesel 10 in a siding, and Diesel 10 didn't want the steamies to know that he was there, However, Diesel 10 was found by Thomas, and he told Mr. Conductor.
Appearances:
Specials:
Trivia:
These Two Diesels were seen in Keekre24's Collection Videos.
Gallery:
Community content is available under
CC-BY-SA
unless otherwise noted.