Salty is a Red,Yellow, and Black Dockyard Diesel Shunter who Works at Brendam Docks, He enjoys telling stories; But Cranky the Crane thinks this as a nuisance.

Bio:
Coming soon.
Appearances:
Specials:
Basis:
Salty is a Ruston and Hornby Class 07 Diesel Shunter.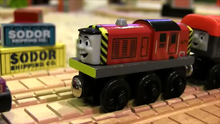 Gallery:
Salty in his CGI Wooden Railway Model with Protues.