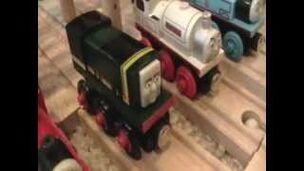 Paxton nicknamed Pax is a diesel shunter. 
Bio
Paxton first arrived at the Diesel Sheds where Sir Topham Hatt found him along with "Devious" Diesel, 'Arry, Bert and Dennis and then after Paxton came out he saw Sir Topham Hatt having two workmen distruct the Magic Buffers because he thinks the buffers "are nothing but trouble".
Later, Stanley met this diesel near the Diesel Sheds. And Paxton later arrived at Knapford Station where he met Thomas and where Thomas explained to Paxton to talk to James; Paxton did and James tricked Paxton and James had thought he was The Flying Scotsman but Paxton had spotted the differences.
James soon went to to The Yard where he found Edward and the trucks gave Edward nothing but trouble.
Edward decided to go tank engine and James sneaked out with Edward's tender and it was painted red. He later arrived near the Brown Turntable and the engines were surprised.
Later, Paxton was mentioned by Norman (Dennis' twin) by the Magic Buffers when two workmen were trying to destroy the Magic Buffers. And later Paxton was taking two Sodor Fuel Tankers and met Toby and Toby's new friend, Flora at a junction.
They were talking for a while but the guard blew his whistle and Toby left. Later Paxton met Douglas and two more engines at The Yard which is now near the Brown Turntable; but Paxton had feared his tenure and was stuck on the Brown Turntable when the Brown Turntable accidently stopped.
He had to take the Sodor Mail Coach for Percy at Knapford Station and wasn't happy when Flora had been mentioned to pull it while he was stuck on the Brown Turntable.
Appearances
Specials: