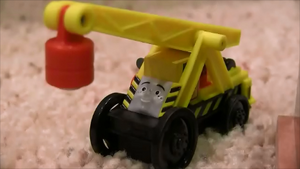 Kevin is a Well-Meaning, But Clumsy four-Wheeled Crane who Works at The Sodor Steamworks.
Basis:
Kevin is Based on a 4 Wheel Ransome and Rapier 6 Ton Crane with an added enclosed cab. Just Like Kevin, These Cranes were Known To Be Clumsy and Cumbersome.
Livery:
Kevin is Painted in a Yellow Livery with Black Warning Atripes. His Hook and Brake are Red. He Has The Sodor Steamworks Logo Painted on His Cab Door.
Appearances:
Gallery: