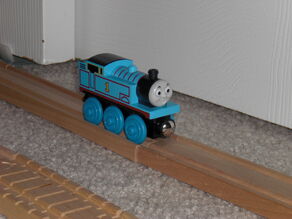 Welcome to the Keekre24 /ThomasWoodenRailway Wiki! This is an informational page on Keekre24/ThomasWoodenRailway, a YouTube user who has uploaded many episodes using his Thomas Wooden Railway items. Here, you can look up the history of K24, episodes and their descriptions, and so much more! Please enjoy!
History
Keekre24/ ThomasWoodenRailway joined YouTube on April 24, 2008 with the username Keekre24. He had watched many other users (DiamondThomas, waylong8tor and TRAINSARECOOL2 to be specific) succeed with their own TWR series, and he wanted to have the same success. After many weeks of planning, he filmed and uploaded his first episode of Thomas the Tank Engine and Friends Wooden Railway Adventures on June 25, 2008. He continued to make many more episodes after that, and the series became an all-time great. He ended Season 1 of his series with 15 episodes and a Season 2 Update.
Shortly after completing Season 1, K24 began filming and uploading his first movie titled "Thomas and the Storm" and that was also highly acclaimed. He then started making episodes for his second season. During this time, his popularity soared and soon many new users were eager to see more episodes from him. After completing 150 more episodes, Season 2 was complete. Once the second season was done, K24 decided to move his layout down into his basement (The first two seasons had been shot in his room) so that he could make episodes as well as remake some Thomas and Friends episodes from the TV series.
Season 3 was the first season where an episode was not shot on his layout in the basement. Throughout the run of Season 3, he reached 100 subscribers and his channel reached over 100,000 channel views. Characters like Rusty and Mighty Mac, who had not appeared in neither of the first two seasons, made their debut. His first two-part episode called Cranky's Delivery.
In Season 4, he gained more popularity than ever before, and got Deluxe Knapford Station, a feature on all his future layouts.
After Series 69, he made a second movie, possibly his highest rated: Lady the Lost Engine.
Unfortunately, halfway through Season 6, Keekre24 was hacked, and the account was lost. He then created a new channel, ThomasWoodenRailway (TWR).
After re-uploading all his old videos, and finishing Season 6, he made "The Strange Case of Splatter and Dodge, set after Thomas and the Magic Railroad.
During Season 7, TWR let users suggest episode titles for the first time.
However, he left after Season 7, but soon returned to make a new season, Wooden Railway Discussions, and a new movie, Sodor's Last Stand. Keekre24 has also started his own Twitter page.
During Season 8, things changed up a little, the song "Really Useful Engine" played in the beginning before an episode started, he also started an all new movie "A Challenge For The Controller" and that's when "Really Useful Engine" only played before the first part started, but the second part was uploaded but it didn't have "Really Useful Engine" playing in the beginning.
In Season 9, he had made up episodes and two new movies "Sodor's Last Stand" and "The Legend of Diesel 10" and had a different layout in the background.
In Season 10, he used the same layout as Season 9 and ended with the episode, Groundhog Gordon.
ThomasWoodenRailway is now working on numerous discussions, and plans to do remakes before the beginning of Season 11 in September 2013. he has planned to do a movie in January 2014.
More Info is coming soon.
Characters
Steam Engines
North Western Railway
The Magic Railroad
Skarloey Railway
Estate Railway
The Mainland
Marklin

Percy's Workshop Friends

Percy's Ghost Engine

Edward's Ghost Engine
Diesel Engines
Narrow Guage
Mininum Gauge
Main Pages And Links
To visit the Keekre24 Wikia page, click here .
To visit Keekre24's official YouTube channel, click here .
To visit the page with all Season 1 episodes, click here .
To visit the page with all Season 2 episodes, click here .
To visit the page with all Tank engines, click here .
To visit the page with all Diesels, click here .
To visit the page with all Characters, click here .
To visit the page with all Places On Sodor, click here .
Administrators
ThomasWoodenRailway (visit user page here )
TheThomasWoodenGuy (visit user page here )
Wooden Railway Edward (visit user page here)
Latest activity