Facts about Derek
Derek is a British Rail Class 17.
His name was going to be Paxman.
Derek did not have a name in the model series he was just name "The new diesel".
Derek appeared cameo in "Calling All Engines" during a song.
Derek's back can slide in and out.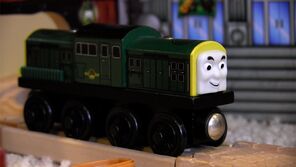 Derek is a diesel engine with bad "teething" troubles. He works at Anopha Quarry.
Sir Topham Hatt decided that Bill and Ben needed help at Anopha Quarry. He bought Derek to his railway; unfortunately, Derek overheated when he came to a hill.
BoCo soon came to Derek's rescue.
Percy teased Bill and Ben about Derek having a toothache. The next morning; Derek came to help the twins with a train of trucks.
Unfortunately, Derek soon overheated when he came to a hill he didn't expect. He soon stopped; leaving Bill and Ben having to pull the train and Derek at the same time.
Derek is a friendly diesel engine with bad teething troubles. He overheats every time he comes to a hill; he is often found working at Anopha Quarry with Bill and Ben.
Season 1: 

Toby and the New Engine (does not speak)
Season 2:
Scarloey and Rheneus depart for Crewe
(cameo)

(cameo)

Season 3: Donald Visits the Scrapyard
(cameo)

(cameo)

Season 4: Duncan and the Passengers
Rosie's wild ride

Arthur and the Fights of the Brown Turntable
Season 10:
Bee Yourself, James
(cameo)

Hank and the Hatt St Crossing (does not speak)

Holly Jolly Molly (cameo)
Greetings, Montague!(cameo)
Season 14:

Henry's hill
Luke Dukes It Out
(cameo)
Bad News Bear 

(does not speak)' ', Bowler Strikes Again
(cameo), 

Paxman Pulls Through, Ace in the Hole (cameo)
Specials:
(not named; does not speak)
Community content is available under
CC-BY-SA
unless otherwise noted.