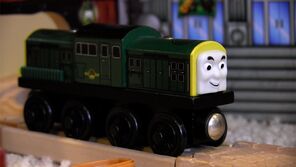 Derek is a diesel engine with bad "teething" troubles. He works at Anopha Quarry.
Bio
Sir Topham Hatt decided that Bill and Ben needed help at Anopha Quarry. He bought Derek to his railway; unfortunately, Derek overheated when he came to a hill.
BoCo soon came to Derek's rescue.
Percy teased Bill and Ben about Derek having a toothache. The next morning; Derek came to help the twins with a train of trucks.
Unfortunately, Derek soon overheated when he came to a hill he didn't expect. He soon stopped; leaving Bill and Ben having to pull the train and Derek at the same time.
Derek is a friendly diesel engine with bad teething troubles. He overheats every time he comes to a hill; he is often found working at Anopha Quarry with Bill and Ben.
Appearances:
Specials:
(not named; does not speak)
Gallery