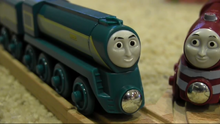 Connor
Section heading
Connor is a streamlined tender engine from the Mainland, designed for speed. He has his own rake of coaches painted in a similar colour scheme to his own. He sometimes visits Sodor by bringing passengers from the Mainland.
Write the first section of your page here.
Real life basis
Connor is based on a New York Central Railroad J-3a Hudson built by Alco of Schenectady, New York. Ten J-3a Hudsons, 5445 through 5454 were built with streamlined shrouds designed by Henry Dreyfuss in 1938 in order to do heavy hauling at a greater speed, most famously hauling the 20th Century Limited between New York City and Chicago. Following a grade crossing accident with a sand truck in East Chicago in 1945, the J-3a's had their streamlining removed. All of the NYC Hudson locomotives were scrapped and only one Hudson tender converted into a generator survived.