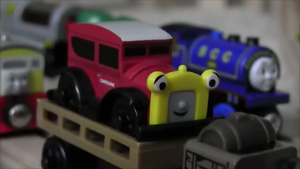 Caroline is an Old Red Car who Once Raced Stepney.
Appearances:Edit
Season 13: It's Good To Be Belle (cameo), The Duke of Hazard (cameo), Rust or Bust (cameo), Go Boldly, Culdee (cameo), Ivo Hugh's Day at the Zoo (cameo), Sideplates and Skirmishes (cameo) and How Gator Stole Christmas (cameo)
Season 14: Millie's Castle Hassle (cameo), Furious George (cameo), Hugo Takes Flight, Dirty 'Arry (cameo)
Season 15: Polar Express Coming Through! (cameo), The Island of Misfits Engines (mentioned), A Christmas Caroline.
Specials:
Community content is available under
CC-BY-SA
unless otherwise noted.