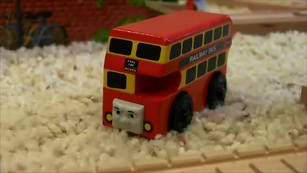 Bulgy
is a double-decker bus; he is on
Duck
's
Branchline and
had
hens
at his
own bridge
and had a henhouse.
Backstories:
Edit
Bulgy first arrived on Duck's Branchline; He wasn't friendly like Bertie. And he talked really differently to Duck making Duck upset, Bulgy also wanted to "free the roads" like the sign on top of him says.
Oliver had been insisted that another bus took his and Duck's passengers; there was Bulgy. Oliver had insisted Bulgy as a "mean scarlet deciever".
When Bulgy was stuck, he was under a bridge; the passengers were inside him and were supposed to be in Duck's coaches. Bulgy had stayed in the bridge all nighttime and woke up next morning finding hens.
Bulgy soon was free from his bridge and his driver built a henhouse for the hens. Bulgy was soon free on the roads again; Thomas and Emily had found out about this.
Bulgy was sent to the Sodor Henhouse; and got a new green livery. He was pleased.
Bulgy is a double-decker bus who wanted to "free the roads". He is different often not by just freeing roads, freeing rails also.
Appearances:
Edit
Specials:
Community content is available under
CC-BY-SA
unless otherwise noted.