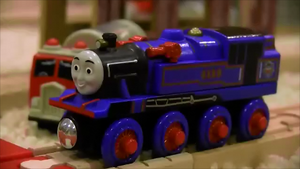 Belle is a Large Blue Tank Engine who fights Fires.
Basis:
Belle is a British Railways Standard Class 4 Tank Engine.
Livery:
Belle is Painted Royal Blue with Red and Brass fittings. She has the Number 6120 Painted in Gold and a crest Consisting of a flame, two dolphins, and a crown painted on her sides. Her Wheels are Red with Blue Rims.
Appearances:
Specials:
Gallery