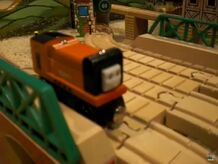 Battle of The Branchlines
is the third movie of 
Thomas the Tank Engine and Friends: Wooden Railway Adventures
. 
There are many Branchlines on the Island of Sodor. One day at Knapford station, Gordon tells the other engines that his branchline is the best on Sodor. The other engines disagree and get into an argument about who's branchline is Sodor's best one.
The trains are delayed making Sir Topham Hatt very angry. He tells the engines he owes them a lot of money by the end of the week. All the engines stay at Knapford overnight still arguing.
Terence and Trevor have had enough of the fight so they tell the engines to pair up with some other engines, the passengers will ride on the branchlines and vote for which branchline is the best.
All the engines hope they will win. Thomas pairs up with Rosie, Gordon pairs up with Murdoch, James pairs up with Mike, Toby pairs up with Percy, Mighty-Mac pairs up with Smudger, Henry pairs up with Emily, Daisy pairs up with Boco, And Duck and Oliver (Who share the same branchline) pair up with each other.
The engines leave Knapford and during their branchline rides, they see some stuff in their ways. There is no way to pass them. The engines come back to the station and complain about stuff blocking their branchlines.
They confess about what they did to each other's branchlines. Sir Topham Hatt is angrier than ever and now he was furious. He tells the engines they owe him more money. The engines fix the mistakes and start again.
This is the first movie in the series to be aired immediately after another feature-length special, in this case being the mockumentary "The Strange Case of Splatter and Dodge".
Community content is available under
CC-BY-SA
unless otherwise noted.