A Scottish Tale



• Season:

1

• Episode:

4

• Original upload date:

June 20 - 25, 2008

• Previous episode:

• Next episode:

• Narrator:

Keekre24/ThomasWoodenRailway

• Air Date:

March 12, 2009
A Scottish Tale is the fourth episode of the first season.
Even though they are twins, Donald and Douglas have very different jobs on the railway. But when Donald is unable to pull his train, Douglas finally gets his chance to prove himself to the engines of Sodor!
Characters
Edit
This was originally on the Keekre24 account until it was reuploaded to ThomasWoodenRailway on March 12, 2009.
Locations
Edit
Douglas says "Donald is such a lucky man to see this every day" but Donald is a train.
James' name is not heard when he finishes his quotes.
Keekre24 says "suddenly they heard a whistle" but Douglas' whistle is not heard.
Keekre24 says "he'd rather pull coaches like Donald" but Donald only has one coach.
Boulder is called in this episode "the big boulder" instead of Boulder.
Keekre24 says "he thinks it's one of the funnest parts on the railway" but funnest isn't a word.
Edward's name is not heard at the end of Edward's sentence.
Keekre24 says "Donald's line" at first when Douglas is near the turntable but then says "Douglas' line".
Keekre24 says "Fergus the Traction Engine was shunting in the yard" but the yard is not seen and he is not shunting until he shunts the trucks left by a silly engine.
Keekre24 says "and when they went over Henry's Tunnel, they rushed down the hill" but Henry's Tunnel is a tunnel.
When Keekre24 says "the turntable was turned in a on position" but nothing is mentioned about the turntable master turning it.
Keekre24 says "they were all giggling and laughing" but giggling and laughing isn't heard.
Keekre24 says "this is very bad" in a Scottish accent but then changes to his own voice.
Donald says "The Breakdown Train will arrive here soon" but The Breakdown Train does not arrive.
Edward says "I got a train today" but the train is not seen.
Keekre24 says "Edward is back from his train" the train is still not seen.
When Keekre24 says "Douglas explained what happened" the explaining is not heard.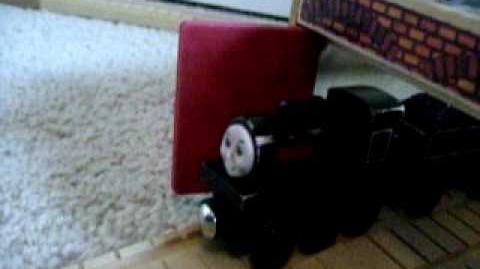 Community content is available under
CC-BY-SA
unless otherwise noted.